New model brings ULT storage directly to patients; includes remote temperature monitoring
ATHENS, Ohio, — Stirling Ultracold, innovative developer and manufacturer of ultra-low temperature (ULT) freezers for life science and biopharma research is pleased to introduce its new portable/deployable ULT freezer, model ULT25NEU. This small, lightweight model, which has earned CE and cTÜVus (UL471) certifications and has a temperature range of -20 C to -86 C (-4 F to-123 F), replaces the ULT-25NE Shuttle™ with both a new look and wireless remote temperature monitoring feature.
With the optional SenseAnywhere wireless monitoring system, users can receive alarms from anywhere. Collected data ensures temperature integrity, for real-time temperature reporting during transit to assure sample efficacy. SenseAnywhere self-powered wireless sensors communicate with and store data in the cloud and are accessible from any smart device.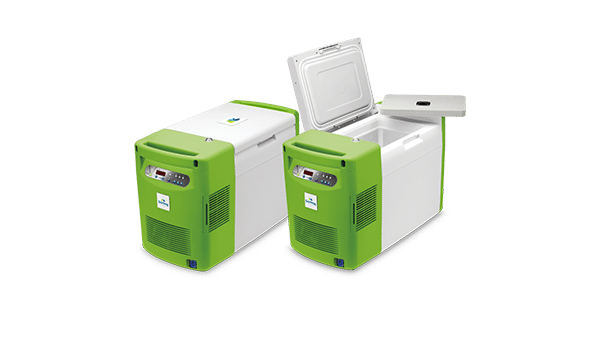 "The ULT25 portable ULT freezer protects valuable research materials in the field and can be deployed quickly, while extending controlled cold storage time," said Scott Masiella, Director of Product Management, Stirling Ultracold.
Weighing just 46 pounds, the ULT25 can be easily and inexpensively shipped anywhere in the world as a parcel. There are no special export shipping classifications required, as it uses 100 percent natural refrigerants. Stirling Ultracold's treatment provider/reseller partners will also be moving forward with the ULT25's co-branding program in an effort to establish and maintain market leadership in their respective fields.
About Stirling Ultracold
Stirling Ultracold, a division of Global Cooling, Inc., manufactures and sells environmentally sustainable ultra-low temperature (ULT) freezers for the global market from its headquarters in Athens, Ohio. Powered by the free-piston Stirling engine, and the first in the U.S. to use 100 percent natural refrigerants, these upright and undercounter ULT freezers use less than one-third the electric power of standard compressor-based ULT freezers, as validated by the industry's first ENERGY STAR® partnership for ULT freezers.The company also produces the industry's only portable ULT solution available for remote clinical trials and biologic drug delivery. VWR named Stirling Ultracold their 2018Supplier of the Year. For more information, please call (740) 274-7900, or visit the company's website, www.StirlingUltracold.com.