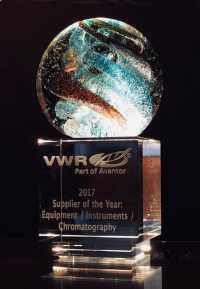 (Athens, OH USA) Stirling Ultracold, innovative developer and manufacturer of Ultra-Low Temperature (ULT) freezers for life science and biopharma research, was recently named "2017 Equipment, Instruments and Chromatography Supplier of the Year" by VWR at its 2018 Americas Sales Conference, held in Orlando, FL. VWR, acquired by Avantor in 2017 as a wholly-owned subsidiary and a leading global provider of product and service solutions to laboratory and production customers, honored several of its valued suppliers at the company's recent sales conference with supplier excellence awards. These awards recognize supplier accomplishments and excellence in operations, sales support and customer service.

"Throughout the year, our suppliers collaborate with our Sales organization to ensure we provide innovative and customized solutions to meet our customers' needs," said Mark McLoughlin, EVP, Americas for VWR, part of Avantor. "We are very pleased to recognize Stirling Ultracold for the products and service they provide to our customers."
VWR honored top suppliers who provided outstanding performance in several categories critical to their combined success. Stirling Ultracold was recognized for providing solutions to customers through quality equipment, services and active support to VWR's Sales organization.
"It's a great honor to be recognized among so many well-regarded suppliers in VWR's portfolio," noted Jim Miller, Chief Revenue Officer at Stirling Ultracold. "We look forward tobuilding on our early shared success and further strengthening our shared vision with VWR in 2018."
To request information about Stirling Ultracold and its innovative line of ultra-low freezers, call 740-274-7900 or email: sales@stirlingultracold.com.