Back when we were just a small group of inventors with the audacious goal of revolutionizing the ultra-cold temperature storage industry, we could have established Stirling Ultracold just about anywhere. So . . . of all places we could have built our future, why did we choose a small Ohio town in Appalachia? Why did we believe that Athens, Ohio was the right place to innovate and manufacture the best performing, most sustainable ultra-low freezer in the industry?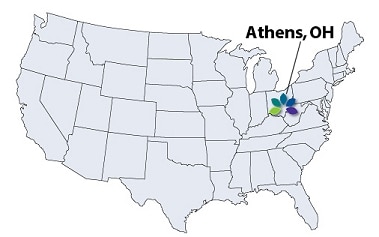 Why Athens?
We made a conscious commitment to developing a U.S.-based workforce and a growing entrepreneurial culture in a region that had already established a legacy of ultra-low freezer manufacturing. Since opening our facility in 2011, I've been gratified and humbled by the positive impact our growing manufacturing operation has had on the lives of our people, their families and our small community. Nevertheless, the decision to locate in Athens has given back even more, supporting our growth on several levels…
We have benefited in many ways from our close proximity to Ohio University, supported by the Voinovich School of Leadership and Public Affairs, Hocking College, and a surprisingly well-educated community that has helped us fill a variety of jobs, in a range of skill-levels. With startup assistance from TechGROWTH Ohio and the Ohio Entrepreneurial Signature Program (ESP), we have successfully transformed from a small R&D shop to a growing manufacturing organization. Starting from a base in Athens, Ohio, our goal is no less than becoming the #1 ultra-low freezer manufacturer in the world.
It's from here that Stirling Ultracold products make it possible to find cures for diseases and sustain our environment, all at the same time.