We commend the recent collaboration announced by CVS and Medable to bring late-stage clinical trials to certain locations in push to serve underrepresented patients, which will expand clinical trial access and engagement for patients at select MinuteClinic™ locations via Medable's clinical trials software platform. This announcement demonstrates how quickly the traditional, centralized clinical trials paradigm is shifting to a new Decentralized Clinical Trial (DCT) model, which can expand research to all people and bring more treatments to market faster.
Led by CVS' in-house Clinical Trial Services™ (CTS) unit, this adds a new dimension to the decentralized trials concept, which has ranged from at-home to hybrid clinical settings and typically involves the use of cloud-based management and digital patient monitoring technologies to collect, communicate and analyze trial data. The DCT approach gained significant traction in bolstering trial participation during the pandemic, when large populations around the world had limited availability and mobility for site-based trials. It was then that the CVS CTS team first helped engage patients and facilitate trials for investigational COVID-19 vaccines and treatments. The pandemic has since created a significant backlog for investigating a range of other treatments in the pipeline and DCT now promises to expand patient recruitment, diversity and trial management to help alleviate the current demand, particularly in phase 3 and 4 clinical trials.
Reducing Barriers, Increasing Diversity
The CVS/Medable DCT collaboration has the stated goal of reaching people who have historically been underrepresented in clinical trials. This effort will be enabled by the wide distribution of CVS storefront locations that are within five miles of 40% of the "vulnerable population" in the U.S., including patients of color. With 30% of study participants typically dropping out before trial completion and 80% of studies not meeting enrollment deadlines, another proven DCT benefit from this plan will be unburdening study participants from additional transportation, lodging, meals and dependent care that come with centralized trials. Significant reduction of these barriers will help accelerate patient recruitment and reduce drop-out rates.

New DCT Solutions for New Medicine
The DCT trend coincides with the rapid emergence of many precision, investigational medicines, such as new cell and gene therapies (CGT), which have more stringent cold chain and storage requirements at various points of patient care. The availability of ultra-low temperature (ULT) freezer storage has already placed limitations on traditional centralized trials and could become even more difficult, as more studies are managed under decentralized and hybrid scenarios with frozen biologics stored at a myriad of patient, clinical and lab destinations. This can require long-term storage in tighter spaces lacking the power distribution and infrastructure normally needed to effectively operate conventional ULT freezers. The inherent thermal instability, handling complications and potential hazards of dry ice make it impractical for long-term thermal protection in decentralized settings where procedural and validation controls are more difficult to implement. As cited in the Contract Pharma piece, Flexible Ultracold Chain Critical to Decentralized Clinical Trials, new resources are needed for supporting reliable ULT storage in DCT settings where biomedical and facility infrastructure is limited.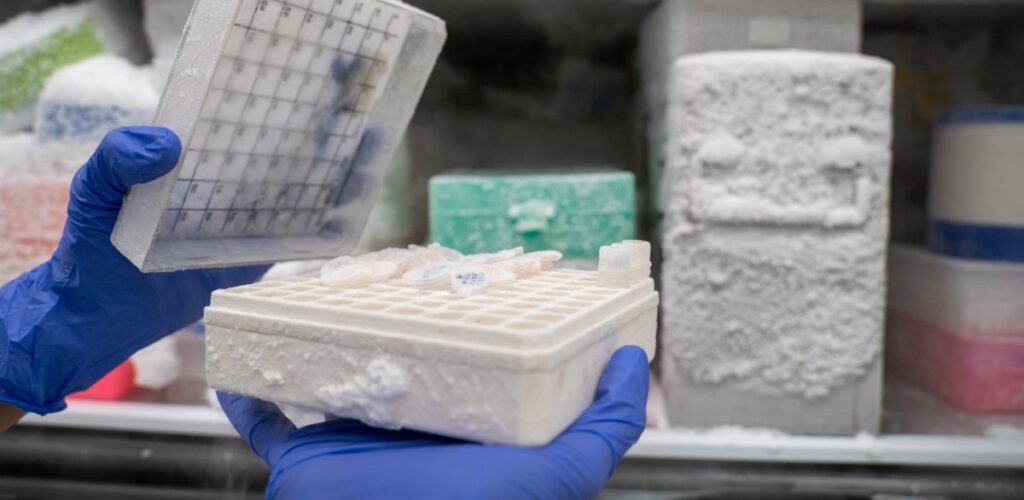 With Stirling Ultracold's unique technology that enables surprisingly compact ULT appliances, we have provided alternative ultracold options for storing temperature-sensitive materials in a growing number of clinical trials around the world. This includes the portable ULT25NEU, which can be parcel shipped anywhere, hand carried, plugs into standard residential power outlets or automotive 12V DC adaptor and can be fitted with cloud-based temperature monitoring. Stirling ULT freezers have become part of a new and flexible ultracold chain infrastructure that supports the growing focus on hybrid and decentralized clinical trials.
Find out how DCT managers are solving ULT storage with the portable ULT25NEU
and Get 1 FREE for every 8 units ordered by 3/31/22!