Recently, another ultra-low freezer manufacturer "boldly" asserted that their model is the "most energy-efficient ULT freezer." This very public claim was presented as having its basis in ENERGY STAR® certified test results that are posted at energystar.gov. While we're pleased to see other ULT freezer manufacturers moving to more efficient designs and joining the ENERGY STAR program, we would like to set the record straight on this matter . . .
It has been confirmed that this competitor's claim was false and the Stirling Ultracold SU780XLE has been validated by ENERGY STAR as the most energy-efficient ULT freezer. This is not our claim, but is based on the EPA ENERGY STAR calculation that qualifies ULT freezers for certification (version 1.1 specification). Anyone can go to energystar.gov and clearly see that the SU780XLE is the most efficient certified ULT freezer listed (.29 kWh/day/ft3).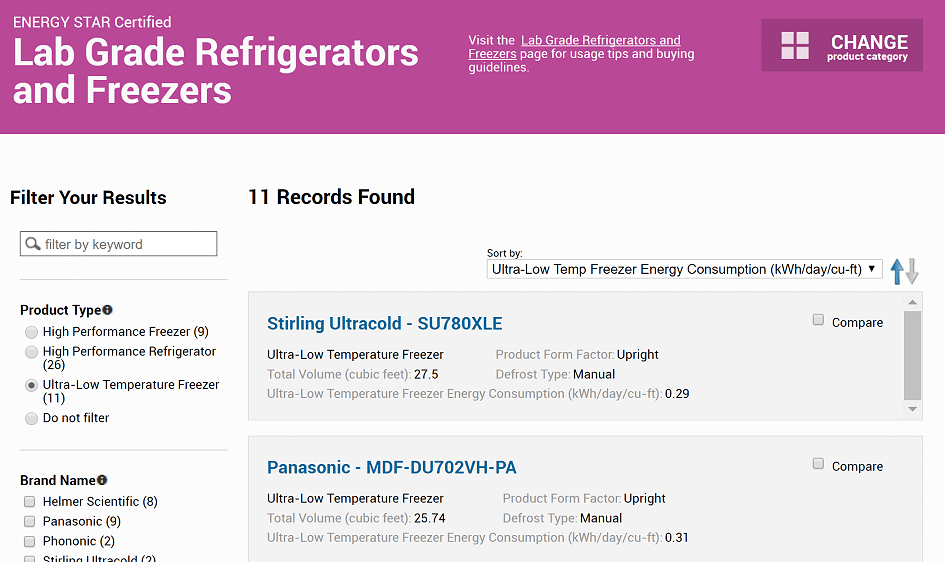 Just Another Untrustworthy Claim
Unfortunately, this inaccurate claim is just the most recent example of ULT manufacturer "marketing" that asserts unfounded energy specifications or capabilities. As I pointed out in the blog post, What's the Difference Between "Typical", "Specification" and "Final Test Method"?, others in our industry have confused and obfuscated for years on the issue of ULT freezer energy consumption. That's why Stirling Ultracold was alone in publicly promoting the ENERGY STAR Final Test Method when it became the de facto industry standard in 2014. We've always believed that ULT freezer buyers deserve a straightforward "apples to apples" energy comparison, which is the purpose of ENERGY STAR after all. Isn't it ironic that we're still talking about confusion on this issue, even after long-awaited ENERGY STAR certification has come to ULT freezers?
Defining True Industry Leadership
At Stirling Ultracold, we carefully consider the validity of all technical data published in our marketing communications, which is why our products are known for delivering on promised performance in independent tests and daily operation. That's also why we were the first in our industry to cite third-party, ENERGY STAR test protocol results for published energy consumption. We made this change to our SU780XLE product literature over a year ago to "walk the talk" and model transparency rather than the casual "specsmanship" that has become so prevalent in our industry. As an industry leader we place the highest value on accuracy and integrity to meet market needs.
We've said it before and we'll now say it again . . . No other ULT freezer on the market offers more energy savings than the SU780XLE, and we would be happy to provide SU780XLE test data in the required ENERGY STAR reporting format to back up this statement. Not only is the XLE the first and most efficient ENERGY STAR-certified ULT freezer, but its field-proven Stirling engine doesn't use compressors that are expected to fail.
Protecting the ENERGY STAR Brand
Stirling has been a strong voice in our industry for ENERGY STAR and we value it as the most widely recognized symbol for energy efficiency in the world. Like any asset with appreciable value, this brand must be properly used and protected. That is why Global Cooling, Inc. (parent company of Stirling Ultracold) has recently contacted the EPA's offices of Air and Radiation and Civil Enforcement regarding the previously-mentioned false statements. As reported in our letter, several unsupported assertions were made in the public domain on the basis of ENERGY STAR misrepresentations, which are potentially damaging to us, our industry and most importantly, the efficacy of the EPA's ENERGY STAR brand.
You may request a copy of this letter to the EPA by sending an email to epa_letter@stirlingultracold.com