Stirling Ultracold Ultra-Low Freezer Wins 2013 Outstanding New Product Award at International Biorepository Conference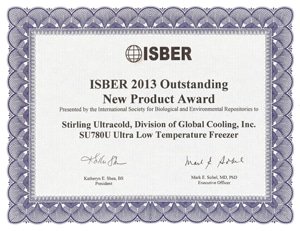 (Sydney, Australia; Athens, Ohio USA, May 14, 2013) The Stirling Ultracold Model SU780U ultra-low temperature freezer won the Outstanding New Product of the Year Award presented on May 8, 2013 by the International Society for Biological andEnvironmental Repositories (ISBER) at their annual meeting in Sydney, Australia. The award, given to one product annually, recognizes the company's development and introduction of the world's most energy efficient ultra-low temperature freezer, the Stirling Ultracold SU780U. The award was presented to Global Cooling's CEO Neill Lane by ISBER President Katheryn E.Shea and Executive Officer Mark E. Sobel.
The award underscores the immediate impact on the $500 million ultra-low freezer industry associated with long-term storage of biologicals and other life forms in support of research, stem cell therapy, pharmaceutical development, drug discovery, environmental, life sciences, and biotechnology research. Ultra-low temperature storage requirements are increasing exponentially and an opportunity to dramatically reduce high energy and operating costs associated with this storage is now available. This 780 liter (27.5 cu. ft.) -80⁰C freezer offers users an array of new benefits while increasing safety, reliability, temperature performance and future viability of critical archived materials.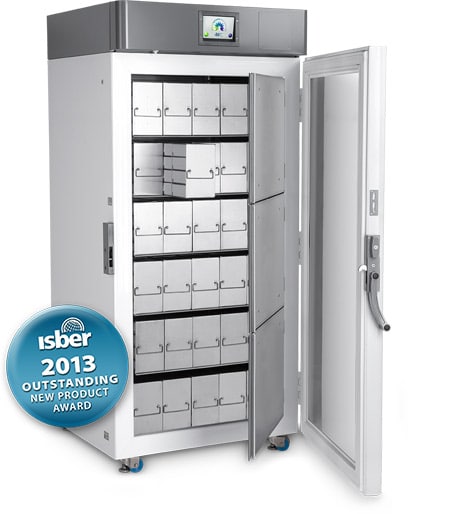 The Stirling Ultracold freezer is based on the industry's first reliable ultra-low temperature cooling technology. The new freezer uses the Stirling Ultracold free-piston Stirling engine as an alternative to inefficient cascade refrigeration systems used in all competing products and offers unique sustainability benefits, using less than 20% of the refrigerant required by cascade systems. Unlike oil lubricated compressors, the Stirling engine operates with gas bearings which eliminate all wear. Independent customer tests confirm the value proposition and sustainability benefits assuring users that the Stirling Ultracold freezer offers unmatched temperature stability, better pull down from ambient, faster recovery following door openings, with lower operating and total life-cycle costs. This combination of energy efficiency and minimal use of refrigerants reduces the Stirling Ultracold carbon footprint to less than half that of any competing product.
The freezer and Stirling cooling engine are both manufactured in the United States at Global Cooling's Athens, Ohio facility. In addition to the award-winning Model SU780U, Stirling Ultracold offers a range of unique Stirling cooled ultra-low temperature freezers including easily transportable Shuttle™ Model ULT-25N and the compact undercounter or benchtop SU105U freezer for small-volume storage.
For more information contact Neill Lane, CEO, or call 740-274-7900.For details on the Model SU780U click here. For an application to acquire a demonstration unit for your facility, contact us.
For information about the International Society for Biological and Environmental Repositories click here.