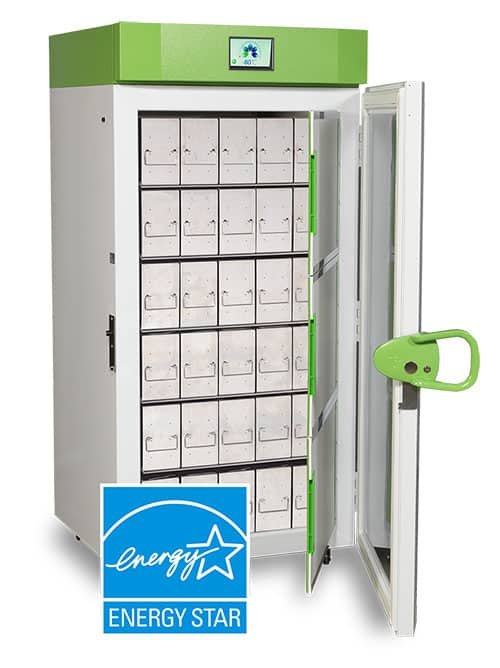 SU780XLE upright model earns first ENERGY STAR certification for ULT freezers, validating industry's top energy-efficiency rating
Athens, Ohio USA Stirling Ultracold has further established its leadership in providing sustainable, energy-efficient ultra-low temperature (ULT) storage solutions by announcing the company's partnership with the U.S. Environmental Protection Agency (EPA) ENERGY STAR® program. As part of this partnership, Stirling's SU780XLE upright freezer has qualified for ENERGY STAR certification, which was recently established by the EPA for Laboratory Grade Refrigerators and Freezers in the ULT category. By selecting ULT freezers that have received ENERGY STAR certification, researchers finding cures for diseases will now have confidence in the energy savings and environmental sustainability of certified ULT storage products that preserve critical biological specimens for their work.
Using the ENERGY STAR test protocol, energy consumption of the Stirling Ultracold SU780XLE was independently verified as .286 kWh/day/ft3 (@ -75°C) in a 2016 report1 prepared for the Emerging Technologies Coordinating Council (ETCC), a collaborative forum of California's largest utilities. These test results were nearly 50% below the Maximum Daily Energy Consumption Requirements (.55 kWh/day/ft3) for ULT freezers, as published by the EPA in May, and were used to validate the SU780XLE's ENERGY STAR certification. In the 2016 ETCC report, the SU780XLE was the most energy-efficient ULT freezer, by a margin of over 21%, compared to 13 competitive models submitted for testing, with 70% energy savings compared to average baseline data gathered (@ -80°C) from 107 ULT freezers in the field1.
Like its predecessor, the award-winning SU780UE, the "XLE" upright ULT freezer features an advanced refrigeration system powered by the free-piston Stirling engine, a field-proven alternative to less efficient, compressor-based systems used in all competing products. With its unprecedented energy efficiency and temperature stability, the U.S. manufactured SU780XLE -80°C freezer also delivers superior freezer reliability. The Stirling engine has only two moving parts supported on gas bearings, which eliminates oil from the system, along with all contact and wear during operation.
Freezer cooling performance, including faster temperature pulldown/recovery and improved set point stability, are made possible by the Stirling engine's continuous modulation and fully adaptive capabilities—eliminating the on-off cycling operation of compressor-based systems.
To request information about the Stirling Ultracold SU780XLE ultra-low temperature freezer, including independent test results, call 740-274-7900.
1 2016 report published by The Center for Energy Efficient Laboratories (CEEL) for the Emerging Technologies Coordinating Council (ETCC): Ultra-Low Temperature Freezers: Opening the Door to Energy Savings in Laboratories.
ENERGY STAR and the ENERGY STAR mark are registered trademarks owned by the U.S. Environmental Protection Agency. ENERGY STAR products are third-party certified by an EPA-recognized Certification Body.