Independent ENERGY STAR® test validates new SU780XLE uses 21-47% less energy than competitive "energy-efficient" ULT freezer models
(Athens, Ohio USA) Stirling Ultracold announced the release of test results validating that the company's next generation SU780XLE Ultra-Low Temperature (ULT) Freezer has received the industry's highest energy-efficiency rating in an industry report that tested 15 ULT freezer models. The independently-verified test results obtained using the ENERGY STAR® Final Test Method, rated the SU780XLE's "weighted average" energy consumption (@ -75°C) as 6.86 kWh/day (steady-state) and 7.86 kWh/day with 6 door openings over a 24-hour test period. These results were collected as part of a 259-page published report entitled Ultra-Low Temperature Freezers: Opening the Door to Energy Savings in Laboratories, which was prepared by The Center for Energy Efficient Laboratories (CEEL) for the Emerging Technologies Coordinating Council, a collaborative forum of California's largest utilities. In this report, the Stirling Ultracold "XLE" ULT freezer used 21% less energy than the next most energy-efficient competitive model, with energy use reductions of more than 70% compared to average baseline data gathered (@ -80°C) from 107ULT freezers in the field.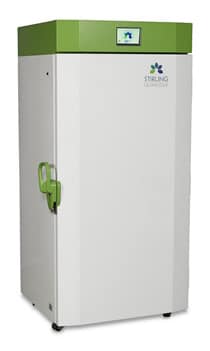 Like its predecessor, the award-winning SU780UE, the new XLE upright ULT freezer features an advanced refrigeration system powered by the free-piston Stirling engine, a field-proven alternative to less efficient, compressor-based systems used in all competing products. With its unprecedented temperature stability and reliability, the U.S. manufactured SU780XLE -80°C freezer also includes the following features:
Smallest footprint per unit of storage volume, 780 liters (27.5 cu. ft.) 600-box capacity
+/- 1°C temperature variation over time at steady state
New ergonomically-designed handle and cabinet
100% natural refrigerant cooling system
Industry's widest temperature set-point range: -20° to -86°C
100% adaptive control, enabling the industry's fastest temperature pull-down and recovery
Universal voltage input, plugs into any outlet
Using no compressors, the SU780XLE's Stirling engine design delivers superior freezer reliability. The engine has only two moving parts supported on gas bearings, which eliminates all contact and wear during operation. Freezer cooling performance, including temperature pulldown, recovery and setpoint stability, are also improved by theStirling engine's continuous modulation and fully adaptive capabilities–eliminating the on-off cycling operation of compressor-based systems.


Download independently-validated ENERGY STAR test results for the Stirling Ultracold SU780XLE Ultra-Low Temperature Freezer or request a copy by calling 740-274-7900.