(Athens, Ohio, USA, November 5, 2014) Stirling Ultracold has announced the release of energy consumption test results for the company's model SU780UE upright ultra-low temperature freezer (ULT), in response to requested data from the United States EnvironmentalProtection Agency (EPA). Stirling Ultracold is the first ULT freezer manufacturer to provide this data, in accordance with the EPA's new ENERGY STAR® Product Specification for Laboratory Grade Refrigerators and Freezers, and Ultra-Low Temperature Freezers Final Test Method. Publically announced by the EPA on July 16, 2014, this test method defines the first industry standard for testing energy consumption of ultra-low freezers.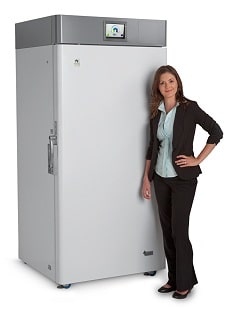 The release of Stirling Ultracold test data complied with testing definitions, conditions, setup, methodology and reporting guidelines, as specified by the EPA-published standard. The freezer Energy consumption, as defined by the final test method, was 7.97 kWh/day over the steady-state period of the test and 9.24 kWh/day over the complete 24-hour test.


"We're thrilled that the EPA and DOE have led the way through this process and now our industry has an agreed-upon and uniform testing standard," noted Stirling Ultracold's CEO Neill Lane. "It is our hope that this will eventually offer the same clarity to ultra-low freezer buyers that the EPA's MPG standard has provided to car buyers for many years. Ultimately research can advance more rapidly if the energy cost to run ultra-low freezers is reduced."
This EPA-led testing standard was established as part of a longer term initiative by the Office of Air and Radiation for eventually instituting an ENERGY STAR® rating for both users and manufacturers of laboratory grade refrigerators and freezers. The EPA is currently engaged in several such programs which encourage the adoption of energy-efficient products, practices, and services through valuable partnerships, objective measurement tools, and consumer education.
About Stirling Ultracold
Designing, manufacturing and supporting the industry's first reliable ultra-low temperature cooling technology using the free-piston Stirling engine, Stirling Ultracold offers an alternative to inefficient cascade refrigeration systems used in all competing products. This ULT storage solution uniquely provides sustainability benefits, using less than 110grams of 100% natural refrigerants and at least 50% less power than cascade systems freezers. Independent customer tests confirm that the Stirling Ultracold freezer offers unmatched temperature stability, better pull down from ambient, faster recovery following door openings, with dramatically lower operating and total lifecycle costs. This combination of energy efficiency and minimal use of refrigerants reduces the Stirling Ultracold carbon footprint to less than half that of any competing product. The freezer and Stirling cooling engine are both manufactured in the United States at Global Cooling's Athens, Ohio facility. In addition to the award-winning Model SU780U, Stirling Ultracold offers a range of unique Stirling cooled ultra-low temperature freezers including easily transportable Shuttle™ Model ULT-25N and the compact undercounter or benchtop SU105U freezer for small-volume storage.

For more information or to request the Stirling Ultracold Model SU780UE Ultra Low Temperature Freezer Test Results, contact Stirling Ultracold Sales or call 740-274-7900.