(Athens, OH USA – April 19, 2012) Stirling Ultracold, Division of Global Cooling, Inc., Athens, OH, will demonstrate the company's new line of compact portable and undercounter/benchtop/stackable ultra-low temperature freezers at the annual NCI Biomedical Research Equipment Exhibition, Ft. Detrick, MD, on May 9-10, 2012. The new freezers operate over the widest temperature range in the industry, -86°C to -20°C, made possible by the patented, energy-efficient free-piston Stirling engine technology that replaces conventional cascade compressors typically used in low temperature storage.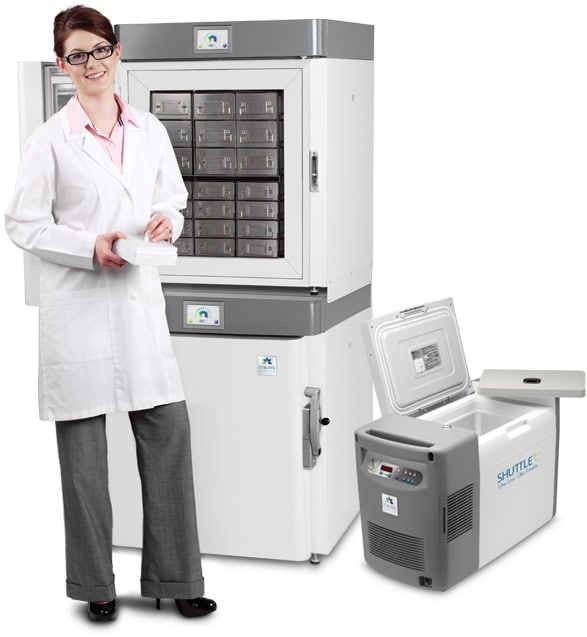 The unique size, compact footprint, quiet operation and extended operating range of the Stirling freezers permit closer, more proximate location of ultra-low storage in non-traditional areas such as personal offices, unused space in undercounter knee-wells, surgical suites, anterooms, and places larger ultra-low freezers are not practical.
The Stirling Ultracold freezers operate on 120V, AC 60/50Hz current and draw minimal power.
The portable Shuttle™ freezer, which has an interior volume of 25 liters, also operates on 12V, DC power for mobile applications such as specimen transfer and storage where dry ice is not preferred or available.
The 105 liter (3.7 cu.ft.) Model SU105U includes the company's Swift™ controller with touchscreen graphic user interface and menu screens for setpoints, temperature history and predictive performance functions.
The freezers will be on display in Booth 327. In advance of the Ft. Detrick exhibition detailed literature is available for download online.
About Stirling Ultracold, Division of Global Cooling, Inc.
Stirling Ultracold, a division of Global Cooling, Inc., is a developer and manufacturer of a new generation of environmentally friendly ultra-low temperature freezers whichoperate over a range of -86°C to-20°C.