Preserving sample integrity at extreme storage temperatures is important for sample viability and overall research success. The temperature difference between the laboratory space and the inside of a laboratory-grade freezer may range from a 100-degree to an almost 250-degree delta, depending on storage equipment used. Laboratory storage best practices dictate a freezer racking system be used for sample management.
Sample management with a racking system organizes samples, preventing them from being misplaced or forgotten, and maximizes storage capacity within the freezer unit or laboratory floor space. Think about the time it takes to find a sample when your samples are not well organized. That time spent searching is additional time the samples may be exposed to ambient temperatures. Utilizing a racking system reduces risk, frustration, and the potential loss of important samples.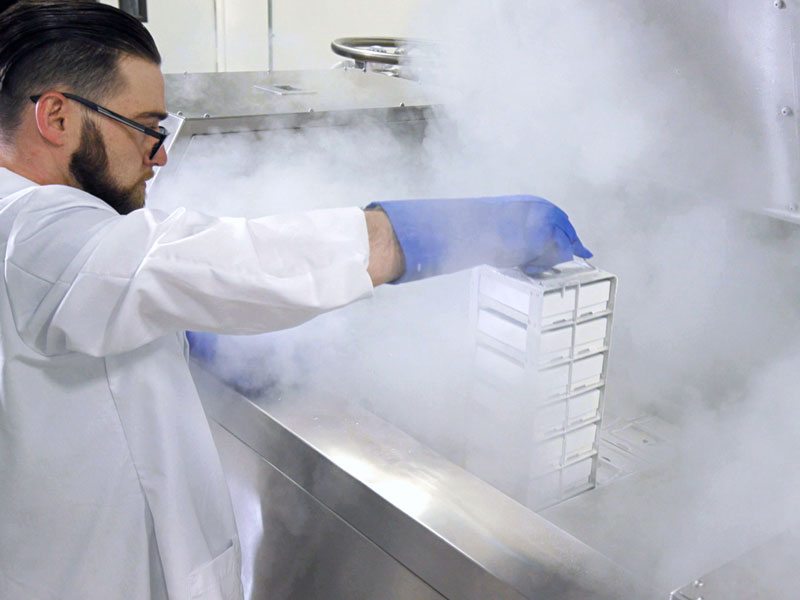 Identifying Your Sample Storage Needs
A racking system often consists of a rack type: pull-out drawer, vertical shelving, carousel-style systems, or a tower system, and the boxes, bags, canisters or cassettes to contain the samples within the shelving.  The racking system may be a simple, off-the-shelf configuration or it may require a custom design to fit a specific container system or freezer model. These racking systems are meant to save you valuable time and effort in the lab and labeling the boxes or sample containers should further expedite sample retrieval. 
The International Society for Biological and Environmental Repositories (ISBER) Best Practices: Recommendations for Repositories Fourth Edition [3] suggests that "establishing a convention for numbering shelves, racks, boxes as well as each location within the storage container" is a biological storage best-practice. Utilizing a detailed racking system for samples allows you to identify, mark and categorize like materials within the freezer. In the event of a freezer failure, this categorization and organization will expedite the transfer of large amounts of samples to another freezer.
BioLife's new Rack Configurator Tool is now available to customers to help configure and order freezer rack systems based on the type of freezer being used and the specific sample container.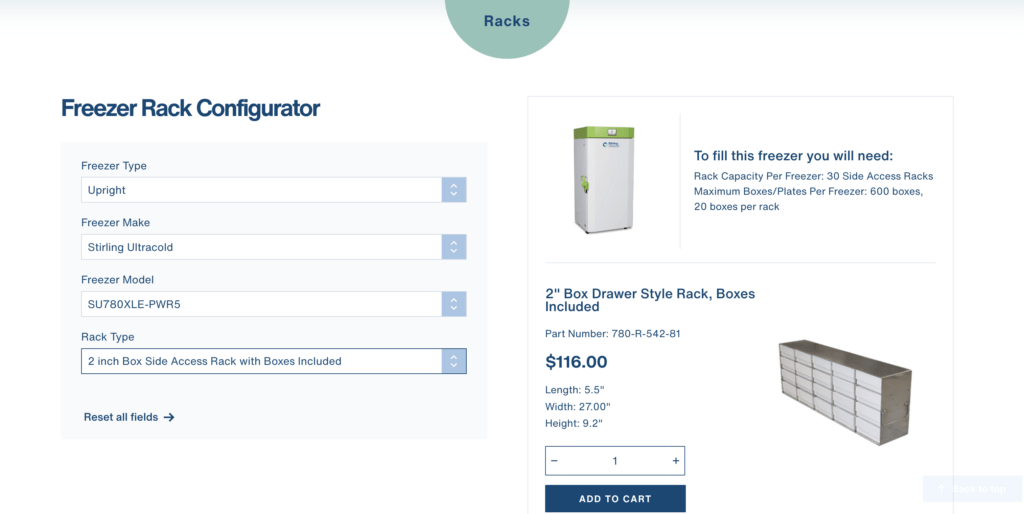 Tips for Optimizing Your Sample Storage
As an industry-leading provider of laboratory storage solutions, BioLife Solutions offers four tips to clients looking to optimize their sample storage procedures and laboratory space. In addition, exploring the My Green Lab and I2SL Freezer Challenge cold storage management guide can also offer helpful tips to improve laboratory efficiency.  
First, select a freezer system designed for your specific use case that will maximize the storage capacity of your freezer.  For example, if you are a Stirling Ultracold SU780XLE freezer user, storing standard 2-inch boxes of samples, we would recommend the high-density storage rack to maximize your freezer's capacity and effectively manage 700, 2-inch boxes.  This system, paired with the Stirling engine maximizes cabinet volume while reducing the energy per sample requirement to an industry-leading level.  
Next, understand up-front the number of boxes or type of sample containers you need to store and what you might need as your research grows. Will you be storing cryobags, vials, loose tissue, bottles? If we were to group like-materials together, how would that impact the way the freezer needs arranged? Large tissues may need a full freezer-shelf worth of space, while 2-inch storage boxes were designed to hold 100 vials. Once you know this, the rack can be built around your freezer needs. 
Then, physically organize samples with labels, colored storage boxes, or laser etching rack elements for quick sample identification. BioLife Solutions will etch any freezer rack order before it leaves our warehouse, at the customer's request.  Some of our clients use numbers while others use letters and different types of sample boxes to stay organized. We have the ability to etch whatever element you might need like a university logo or "property of biology lab". 
Lastly, customize your freezer with a variety of racks per shelf, if necessary, to optimize the space for multiple sample storage containers. We understand that one size and one system may not fit all.  Filling a freezer with 2-inch boxes is great, until the freezer needs to be reorganized to hold 3-inch boxes. We offer racks that can be modified to make these changes and grow with your freezer.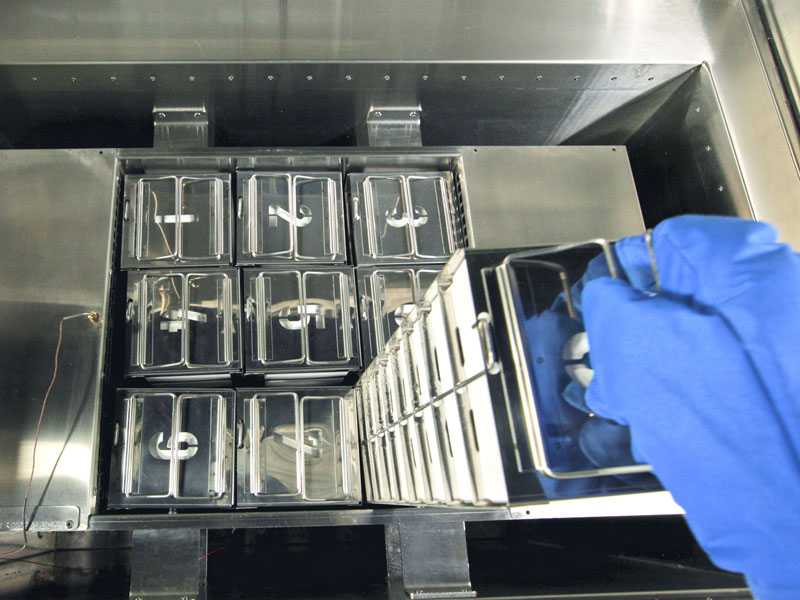 Sustainability and Freezer Capacity
If you are an upright SU780XLE user, take advantage of your space with added energy efficiency benefits. While the Stirling engine was inherently designed to reduce energy use in the laboratory, it also provides additional storage capacity within the cabinet compared to traditional compressor-based ULT freezers. With the right rack this storage space can be further maximized to increase the number of samples per square-foot of laboratory space. 
According to a benchmark study on ULT freezers, completed by Green Light Laboratories in 2022, "Stirling's SU780XLE freezer can run on as little as 6.67 kWh/day at -75°C (Weighted Average).[5] In typical laboratory conditions (ambient of +23°C, ±1.5°C), energy usage is around 8.86 kWh/day (set point -80°C)." Combining a best-in-class storage capacity with a more energy-efficient engine, and the right racking system, will reap energy savings per sample and may reduce the number of freezers required to store your samples. 
In summary, utilizing a racking system within a ULT freezer can increase efficiency and optimize the space. BioLife Solutions is your ideal provider of all your racking needs either for a ULT or cryogenic freezer. 
Sources:
[1] How ULT Freezers Protect Critical Samples In Biological Banks, inTEST Thermal Solutions, https://www.intestthermal.com/blog/how-ult-freezers-protect-critical-samples-in-biological-banks 
[2] Efficient ULT freezer storage, The University of Edinburgh, https://www.ed.ac.uk/files/atoms/files/efficient_ult_freezer_storage.pdf 
[3] BEST PRACTICES: Recommendations for Repositories Fourth Edition, International Society for Biological and Environmental Repositories (ISBER), https://cdn.ymaws.com/www.isber.org/resource/resmgr/best_practices_4th_edition/isber_best_practices_recomme.pdf 
[4] Increasing ULT Freezer Storage Capacity with Limited Space and Budgets, My Green Lab, https://www.freezerchallenge.org/fc-blog/increasing-ult-freezer-storage-capacity-with-limited-space-and-budgets
[5] Stirling Ultracold SU780XLE ULT Freezer: Reviewed, Medline Scientific, https://www.medlinescientific.co.uk/stirling-ultracold-su780xle-ult-freezer-reviewed/