The matchless cooling technology at the heart of thousands of our ULT freezers today, has a unique "garage story" that traces its roots back to the invention of the Stirling engine in 1816. First conceived by a Scottish minister named Robert Stirling, the original reciprocating piston heat engine was designed to improve fuel efficiency over more common steam engines of the time. Although our version of the Stirling engine uses advanced electronics, linear motion control and gas bearings that Robert Stirling could never have dreamed of, his amazingly efficient design concept is at the core of our freezers today. That's why the recent bicentennial celebration of Dr. Stirling's discovery is personally meaningful to me and for all of us at Stirling Ultracold.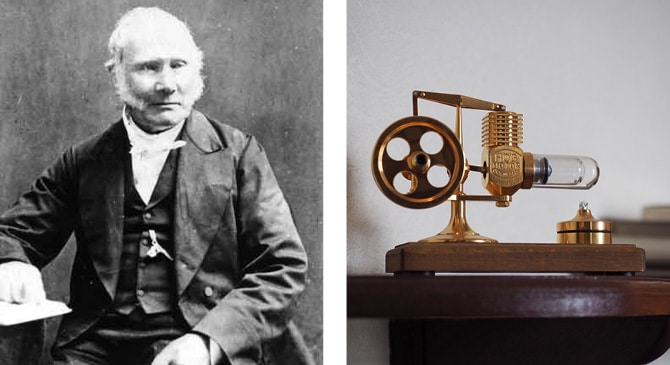 Since its creation, the Stirling engine design has seen a number of advancements, including an early application of our patented technology on the Space Shuttle and the RHESSI satellite, where the engine has been cooling instruments for over 14 years in a geocentric orbit. In 2009, Global Cooling's founder David Berchowitz led an effort to harness the significant cooling performance and energy advantages of the free-piston Stirling technology for ultra-low temperature storage applications. Initially, the portable Shuttle ULT was introduced, followed by the undercounter SU105U and the SU780U upright ULT freezer in 2013.
Since the beginning, our use of the Stirling engine has been unique in the ultra-low temperature market. We've been able to provide the research community with more efficient, reliable alternative to decades-old cascade compressor technology–thanks to Robert Stirling's invention.
Celebrating this invention, Northumbria University (Newcastle, UK) recently hosted the 17th International Stirling Engine Conference and Exhibition. Stirling Ultracold founder, David Berchowitz, and I attended the event, which marked the invention's bicentennial anniversary. As the global leader in the commercialization of the Stirling engine, we were pleased to share our story with conference attendees. I spoke about our experiences in the ULT freezer industry and how we've changed the way organizations think about buying freezers.
While in the UK, we also had the chance to visit the church where Robert Stirling ministered for more than 50 years, Galston Parish. Stirling's invention is held in such high regard at the parish, there are engine displays inside the church, along with a prominent Robert Stirling monument in the local cemetery.
As the Stirling engine passes its 200-year benchmark, I believe we'll continue to see improvements and new applications for this inherently-efficient engine. We owe a lot to Robert Stirling and, having recently commemorated his achievement, I feel a sense of pride as we continue his story. For a more in depth account of the Stirling engine's history and its use in our freezers, you can visit our History web page.