The Stirling Ultracold ULT25NEU is the only portable and deployable ultra-low temperature (ULT) freezer on the market for the clinical storage of temperature-sensitive biological materials. Now it's simpler than ever to ensure the viability of samples collected at remote clinical sites with the new ULT25NEU and the SenseAnywhere wireless temperature monitoring system. This system makes it easy and affordable to monitor the temperatures of samples from any location and on any device with a browser through a secure Cloud.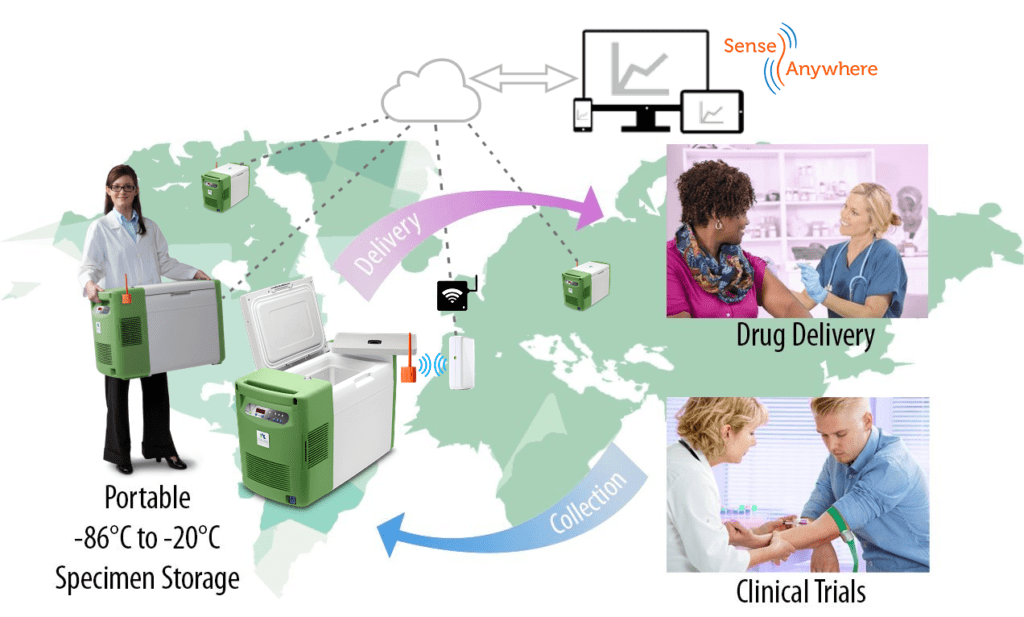 The ULT25 equipped with SenseAnywhere provides a reliable cold storage solution close to the patient, while also allowing healthcare providers and clinical trial managers to monitor and audit the safe storage of valuable biologics from afar. This is ideal for providers who need to validate the viability of temperature-sensitive biological assets at multiple remote clinical locations. With the addition of the SenseAnywhere system, you can establish and centrally maintain an audit trail of sample temperature data for a remote fleet of ULT25 freezers at hospitals, surgery centers and clinical trial sites. SenseAnywhere is FDA compliant to 21 CFR Part 11 for data integrity as well as meeting the EN 12830:2018 standard for temperature recorders for transport, storage and distribution of temperature-sensitive goods.
The key features of the SenseAnywhere system include:
Accurate freezer temperature monitoring with a multi-point calibrated RTD probe, including ambient temperature conditions around the freezer
Customizable instant alarms will notify you via email and/or text when limits are surpassed
Historical and real-time 24/7 data available to track for compliance
Secure data storage with access anytime and anywhere via a secure Cloud
There are many additional benefits of the SenseAnywhere system such as having no software to install (connect via an AccessPoint and site Ethernet, or cellular data), no backups required and no maintenance. It's waterproof and the battery life is guaranteed for 10 years. Once you register online at the SenseAnywhere client portal you can manage the settings of your connected device, view graphs, set alarm profiles and schedule/download reports.
The ULT25, equipped with the SenseAnywhere system, is the complete ULT solution for clinical point-of-use storage and the remote collection of samples, all while having secure temperature monitoring throughout the process. Exceptional sample safety and data tracking have never been so effortless to maintain until now.
To learn more about the portable ULT25NEU freezer, download the brochure »