At Stirling Ultracold, we're very proud to be innovating and manufacturing ultra-Low freezers in Athens, Ohio, and developing a U.S.-based workforce in a historically underserved business zone. That's why I was very pleased when U.S Senator Sherrod Brown recently accepted our invitation to come to Athens and tour our facility.
Senator Brown's visit not only allowed him to see our manufacturing operation and meet our employees, but also provided an opportunity for us to thank him for his support of targeted federal incentives that have helped us secure new investment and growth for our business.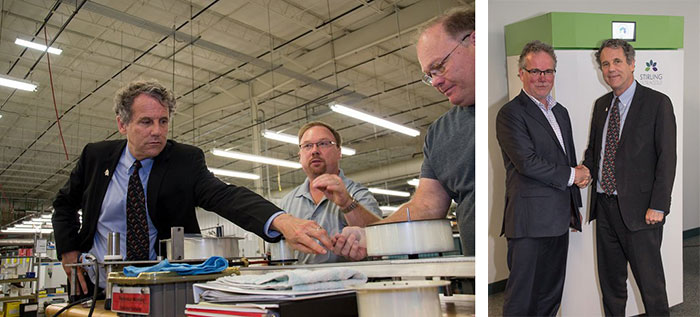 After introductions and a brief presentation of our products, Senator Brown toured our ultra-low freezer manufacturing operation. This was followed by an interactive gathering with our employees, where Senator Brown shared his thoughts on a range of topics. The senator ended his visit by talking with our leadership team about future plans for our business, including our current efforts to become Zero Waste and HUBZone certified.
Speaking to the press about his visit to Stirling Ultracold, Senator Brown made the following comment . . .
"Companies like Stirling Ultracold create opportunities for the Athens community and its workers. Investing in quality manufacturing means good jobs that can help spur further economic growth."


From my perspective, it was a very good day and I feel fortunate to have been a part of it. I appreciated Senator Brown's level of engagement with our people and his thoughtfulness in discussing our future plans.