COVID: THE "GREAT ACCELERATOR"
As recently observed in Forbes, the COVID-19 pandemic will be remembered as the "great accelerator" of technological trends, despite its overwhelmingly tragic impact on global health and economics. With the world's attention on biopharmaceutical sciences, more funding then ever has been applied to accelerated drug approvals and advances in medicines, which have been developing for decades. In consumer markets, we've witnessed surging growth in online shopping, delivery services or steaming entertainment platforms, while businesses and the healthcare industry are still flexing to keep up. Stay-at-home behaviors have boosted adoption of web conferencing, telemedicine, digital wellness platforms and several other technically-based virtual trends while societies are adapting to a "new normal."
COMPRESSING THE BIOGENETIC DEVELOPMENT PIPELINE
Perhaps this acceleration has been the most consequential in the massive effort to combat the virus itself, leading to successful new genetic applications such as messenger RNA (mRNA) vaccines and antibody therapies for treating COVID-19. This global undertaking has laid the groundwork for a new generation of biologic, cell and gene technologies with promising outcomes for several oncological, cardiovascular, neurological, endocrinological and musculoskeletal diseases.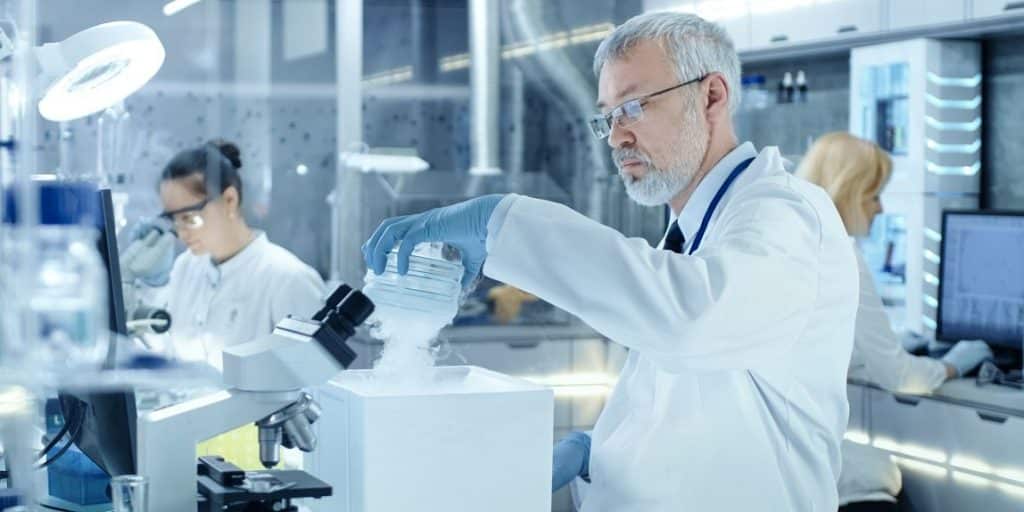 As reported in the Wall Street Journal, Moderna and Pfizer-BioNTech have reinvented the development of vaccines with mRNA solutions, fast-tracking the development of new therapeutics. As recently forecasted in Genetic Engineering & Biotechnology News, COVID-related bioprocessing advances will propel rapid growth in new biologic treatments and cell and gene therapeutics (C&GT) including the following…
Monoclonal antibodies (mAbs) market expected to approach $140 billion by 2024.*
Cell and gene therapeutics market is projected to grow at a 30% compound annual growth rate from 2020-2025.**
Biologics are expanding into new therapeutic areas, such as neurodegenerative and cardiovascular diseases.
Rising global demand is being driven by the emergence of biosimilars.
COVID-19 has compressed bioprocessing timelines forever and the establishment of a new ultracold chain infrastructure will help accelerate the pipeline for bringing advanced biomedical solutions to market for years to come.
THE FUTURE BELONGS TO THE FLEXIBLE ULTRACOLD CHAIN
Whether in developmental, translational, clinical or manufacturing phases, these next-gen vaccines and treatment assets will have various degrees of temperature-sensitivity, with the essential need for reliable thermal protection to maintain long-term efficacy. That makes the ultracold chain an essential enabler for critical biopharma developments in the post-COVID world.
Much of our experience and lessons learned to establish a new ultracold chain for COVID should be applied to build a supporting infrastructure for the approaching revolution in biomedicines. As we have seen with COVID-19 biologics, efficacious cold storage temperatures can vary significantly from one biological material to the next, depending on molecular, cellular or genetic type.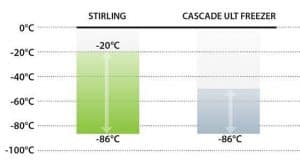 This uncertainty makes a strong case for selecting freezers with the widest possible temperature range, such as the -20°C to -86°C setpoint range exclusive to Stirling's ultra-low temperature (ULT) product line.
Pfizer-BioNTech's announcement that their vaccine doses can now be stored at -20°C for up to two weeks is good news for global vaccine distribution. However, the need for longer-term ULT storage persists, particularly for administrators who value storage flexibility. While -20°C is within the temperature range of our freezers, -70°C to -80°C storage temperatures are still essential and only Stirling models can accommodate this entire range in a single system. This Pfizer-BioNTech example signals the unpredictability of storage temperatures in the coming age of advanced treatments, not only for the range of biogenetic materials, but also at multiple stages of clinical development.
As we see more advanced biologics being developed at a faster pace, a corresponding ultracold chain, with added biobanking capacity, must be deployed to build a ULT storage foundation for a faster commercial response:
Infrastructure-readiness: Stirling Ultracold freezers offer higher storage densities, while requiring less space, energy and infrastructure to operate over a wider range of ambient conditions and voltages. These facility infrastructure obstacles, such as floor space constraints, high energy draw, power distribution and limited HVAC capacity, will hamper equitable biological material distribution.

Portability for clinical deployment: Particularly within the last mile, at on-site clinical administration centers, our portable ULT25NEU freezer appliance and SU105UE undercounter units have proven to be a more reliable alternative than dry ice for COVID-19 storage. With the flexibility to program the setpoint temperature anywhere between -20°C and -86°C, where traditional ULT freezers are too bulky, heavy and require special infrastructure, these compact units are perfectly positioned for future biologics development and distribution.
Cloud-based Temperature Monitoring: It is important that temperature logging or monitoring be used to establish a cold chain audit trail. Cloud-based monitoring platforms, such as SenseAnywhere, allow continuous cold chain of custody through multiple stages of the distribution process.
Download our COVID Solutions eBook and see Stirling's Flexible Ultracold Chain as it applies to the pandemic and beyond.
* Monoclonal Antibodies Market Size Worth $138.6 Billion by 2024, Grand View Research, November 2016.
** Cell and Gene Therapy Market – Global Outlook and Forecast 2020-2025, Arizton Advisory & Intelligence, August 2020