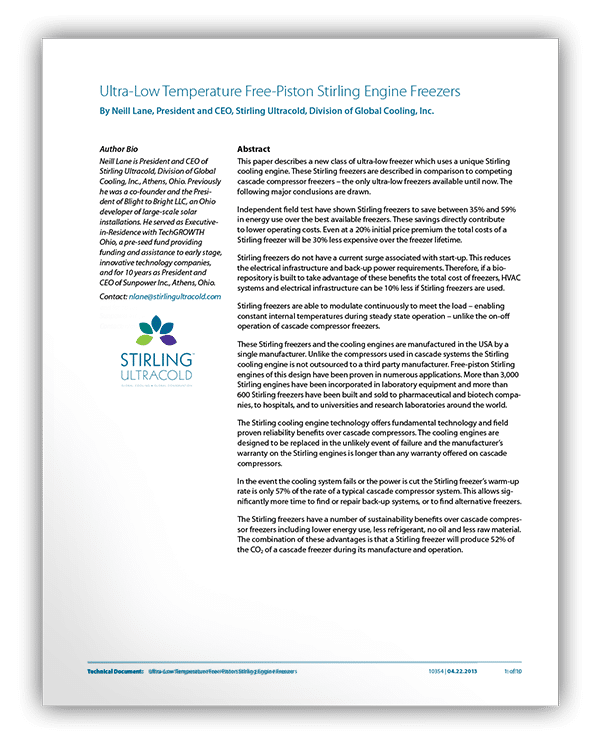 Stirling Ultracold, Division of Global Cooling, Inc., Athens, OH, has published a White Paper outlining the sustainable benefits of Stirling Ultracold ultra-low freezers powered by a unique Stirling cooling engine. These Stirling freezers are described in comparison to competing cascade compressor freezers which have been the best in class and the only available ultra-low freezers. The following major conclusions are drawn.


 Independent field test have shown Stirling freezers to save between 35% and 59% in energy use over the best available freezers. These savings directly contribute to lower operating costs. Even at a 20% initial price premium the total costs of a Stirling freezer will be 30% less over the freezer lifetime.
Stirling freezers do not have a current surge associated with start-up. This reduces the electrical infrastructure and back-up power requirements. If a bio-repository is built to take advantage of these benefits the total cost of freezers, HVAC systems and electrical infrastructure will be 10% less if Stirling freezers are used.
Stirling freezers are able to modulate continuously to meet the load – enabling constant internal temperatures during steady state operation – unlike the on-off operation of cascade compressor freezers.
Unlike the compressors used in cascade systems the Stirling cooling engine is not outsourced to a third party. Free-piston Stirling engines of this design have been proven in numerous applications. More than 2,500 Stirling engines have been incorporated in laboratory equipment and 600 Stirling freezers have been built and sold to customers.
The Stirling freezers will produce only 52% of the CO

2

of a cascade freezer during its manufacture and operation.
The White Paper accompanies the launch of the Model SU780U, 27.5 cu.ft. upright ultra-low freezer following completion of a national beta test program and a review of independent, internally generated performance data.
The economic benefits and independently generated performance history of the Stirling freezer enabled by the company's patented Humm™ free-piston Stirling engine technology have been presented by invitation at the International Conference on Sustainable Laboratories sponsored by theNational Institutes of Health, Bethesda, MD, December 13-14, 2012, and will be presented again by invitation at the International Institute for Biological and Environmental Repositories (ISBER), Sydney, Australia, May 5, 2013.

To download a copy of the White Paper click here.


Stirling Ultracold freezers are 100% manufactured in the USA by Stirling Ultracold, a division of Global Cooling, Inc., is located in Athens, OH. The company also manufactures aline of smaller volume ultra-low freezers including the 3.7 cu.ft. Model SU105U undercounter/benchtop freezer and the Shuttle™, a 0.9 cu.ft. portable ultra-low freezer. Allfreezers operate on 110V or 220V, AC over a brown-out resistant voltage range of 85V to 264V.