Uniquely Portable and Reliable

Ultra-Low Temperature Storage
Small, Lightweight, Portable Storage
The ULT25NEU is the only truly portable
ultra low temperature (ULT) freezer
available today for bringing cold chain samples and biological products to patients at clinic remote sites. It provides safe and reliable ULT freezer storage in the field and on the go, so you can:
Safely preserve and deliver biologics at the clinical point of patient care, anywhere in the world
Collect temperature-sensitive samples and specimens at remote clinical trials
Easily deploy long-term storage of viable biological materials, anywhere there is a power outlet with our portable ULT freezers.
Temperature control and handling limitations of dry ice storage can risk the viability of your valuable samples in the field, while compressor-based freezers are too unwieldy and unreliable for deployment at remote sites. The revolutionary ULT25NEU ultra-low temperature freezer was designed to solve these problems. With its compact and field-proven,
free-piston Stirling engine technology
, it brings portable, precisely controlled ULT freezer storage anywhere there is a need for patient care, testing or specimen collection. But this portability and small footprint does not come with compromise. The ULT25NEU freezer is a 25-liter (0.9 cu. ft.) capacity ULT freezer with the same performance and reliability of our larger undercounter and
upright ultra-low temperature freezer models
.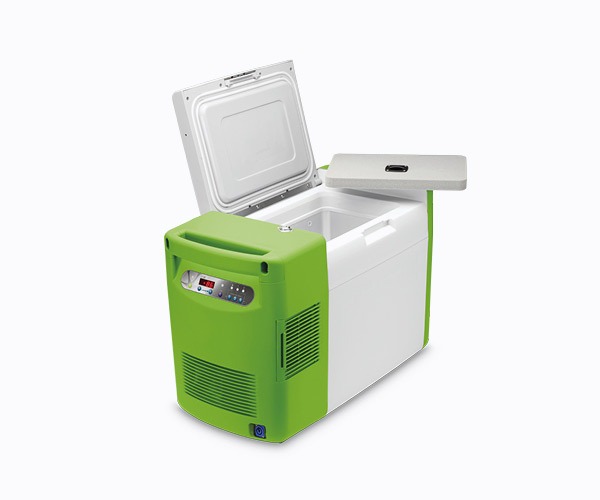 Built for clinical and health care markets
LIGHTWEIGHT AND EASY TO SHIP
Weighing only 46 lbs. (21 kg), the ULT25NEU can easily and inexpensively be shipped anywhere in the world.
REMOTELY MONITOR FREEZER PERFORMANCE
The ultra-low temperature freezer unit is available with optional SenseAnywhere technology, which combines wireless sensors and secure cloud storage, to easily monitor and track ULT temperatures from anywhere 24/7.
PLUG IN ANYWHERE
The ULT25NEU plugs into any 110V–240V outlet, worldwide, and can even run on 12V DC power with an automotive adapter.
WIDEST TEMPERATURE RANGE
Safely store valuable samples at ultra-low temperatures from -20°C to -86°C.
SMALLEST FOOTPRINT, SURPRISINGLY BIG CAPACITY
The ULT25NEU holds 18 2-inch boxes in a portable and lightweight 25-liter (0.9 cu. ft.) size, made possible by our breakthrough ULT technology.
ULTRA-LOW POWER CONSUMPTION
Designed for space and energy efficiency, the ULT25NEU ultra-low temperature freezer uses less than 2.8 kWh/day at -80°C.
100% NATURAL REFRIGERANTS
Our portable ULT freezer uses natural refrigerants, which are more environmentally sustainable and eliminate the need for special export shipping classifications.
DESIGNED FOR TODAY'S NEW ERA OF SCIENTIFIC INNOVATIONS
Built for portability and reliability, the ULT25NEU ultra-low temperature freezer is ideal for providers of regenerative biologics, and related products who need safe, long-term storage of temperature-sensitive samples at multiple remote clinical sites.
Stirling Amino Technology Case Study Download