Undercounter ULT freezer

with a space-saving design for remote clinical trials
Undercounter, Benchtop, Stackable Storage
The Stirling Ultracold SU105UE undercounter ultra-low temperature (ULT) freezer is ideal for bench-side personal storage or for use in areas where larger-volume ULTs are not suitable. This space-saving freezer delivers full-performance ULT storage for benchtop, stacked or undercounter configurations. It's the ideal solution to optimize your laboratory floor plan, offering:
A space-saving design that doesn't compromise storage capacity
A wide temperature range for transitioning biological materials to warmer temperatures
Secure, personalized storage in clinical settings
This stackable model uses the revolutionary
free-piston Stirling engine technology
found in our
SU780XLE upright freezer
, offering a highly reliable ULT storage solution with only a few moving parts, no oil and no compressors.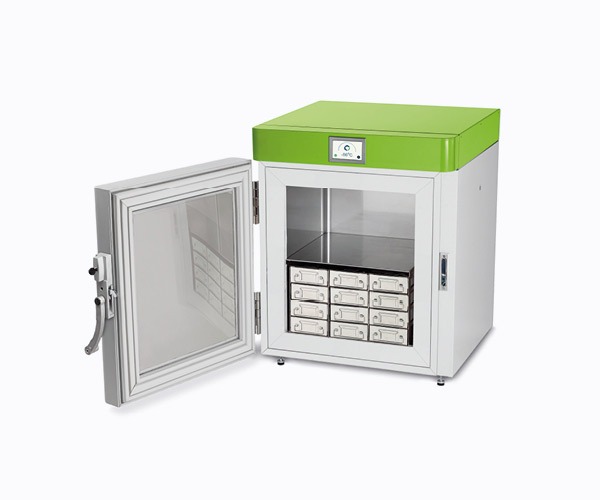 Ideal for research labs and clinical trials where space is limited
COMPACT, LIGHTWEIGHT AND FLEXIBLE
The unit's efficient 3.7 cu.ft. (105 L) interior cabinet, matched with a small exterior footprint, saves space in the lab while providing ample storage capacity. Its lightweight design allows for easy stackability or undercounter placement.
PLUG IN ANYWHERE
The SU105UE plugs into any 110V–240V outlet, worldwide, eliminating expensive conversions.
WIDEST TEMPERATURE RANGE
Safely store valuable samples from -86°C to -20°C.
REMOTELY MONITOR FREEZER PERFORMANCE
The unit is available with optional SenseAnywhere technology, which combines wireless sensors and secure cloud storage, to easily monitor and track ULT temperatures from anywhere 24/7.
ULTRA-LOW POWER CONSUMPTION
Designed for space and energy efficiency, the SU105UE uses less than 4 kWh/day at -80°C.
100% NATURAL REFRIGERANTS
Because it uses 100% natural, SNAP-compliant refrigerants, the SU105UE is environmentally sustainable.
MINIMIZE MAINTENANCE
Since the SU105UE has no compressor, it uses no oil and requires virtually no maintenance.