As of this blog posting, more than 30 COVID-19 vaccine candidates are in development worldwide in a historic pandemic response. In the United States alone, the "Operation Warp Speed" (OWS) collaboration driven by the federal government and 18 biopharmaceutical companies, intends to deliver 300 million vaccine doses by early 2021.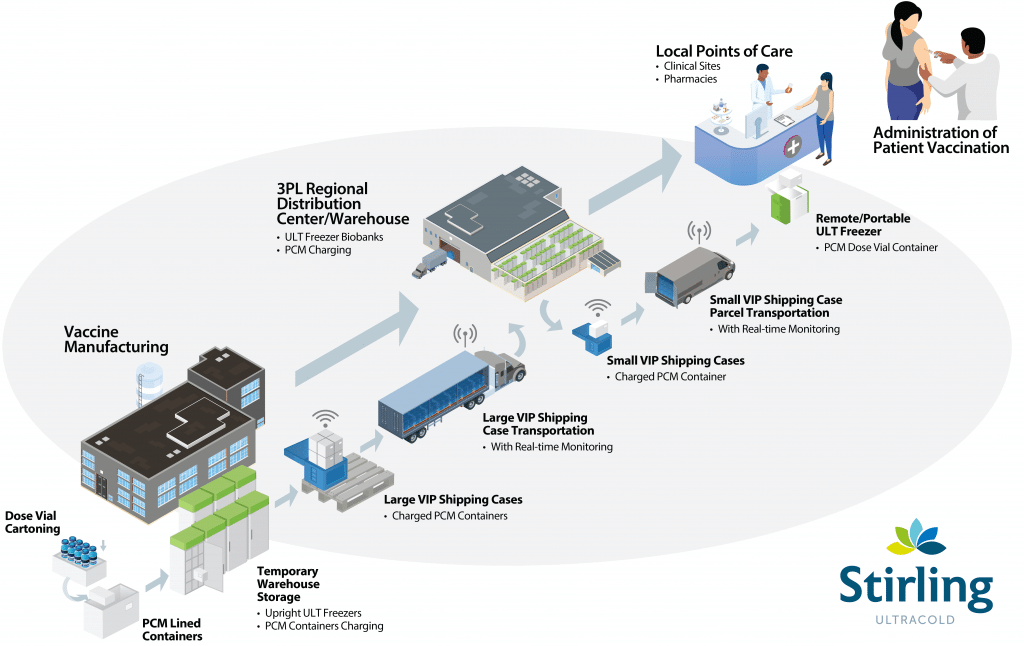 Standing in their way is this stark reality: more than 50% of vaccines may be wasted every year because of temperature control, logistics and shipment-related issues, according to the World Health Organization.
Given the urgent global need for a COVID-19 vaccine, manufacturers, third-party logistics (3PL) providers and distribution centers must overcome three significant challenges that could threaten rapid vaccine deployment and availability. Our recent white paper, Meeting the Challenges of Rapid COVID-19 Cold Chain Deployment on an Unprecedented Scale, explains in detail how 3PL and pharma distribution organizations must ramp up ultra-low temperature (ULT) cold chain capacity in order to safely store and deliver vaccines. Here are key points and insights from the white paper that can help meet the cold chain requirements of accelerated deployment.
Obstacle: The approved storage temperatures for the different COVID-19 vaccines are still somewhat unknown.
Certain COVID-19 vaccine candidates will require -80°C storage, while others may allow for warmer frozen storage ranging from -40°C to -20°C. How will your organization ensure it's prepared to meet the storage requirements of any one of the viable vaccine candidates?
Solution
Expand capacity throughout the cold chain with ULT freezers designed to provide the widest temperature range. Stirling Ultracold offers the ONLY commercially available freezer models that can safely maintain temperature setpoints from -86°C to -20°C. These units meet the cold storage efficacy requirements of the majority of COVID-19 biological materials.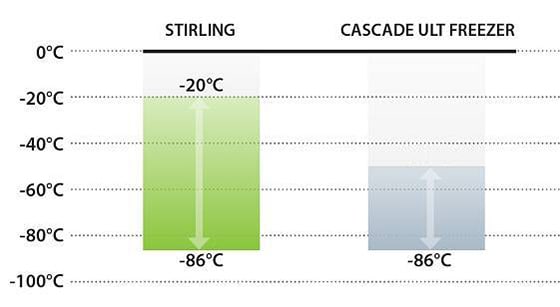 Obstacle: Few distribution facilities are designed for high-volume ULT vaccine storage.
Quick answers are needed to questions about the heat ULTs generate, how to fit them into limited floor space, as well as their power demands and potentially high energy costs. How will warehouses and distribution centers overcome these facility infrastructural obstacles when ramping up ULT freezer capacity for high-volume COVID-19 vaccine storage?
Solution
Increase ULT storage capacity with freezers that require less space, energy and infrastructure to operate over a wider range of ambient conditions and voltages. ENERGY STAR®-certified units can significantly reduce electricity usage and costs as well as the associated heat output and operating carbon footprint. Stirling ULT freezers produce less heat than standard compressor-based models and operate reliably in warmer conditions. This reduces the HVAC load and enables your organization to avoid expensive and time-consuming modifications to existing facilities. Other infrastructural obstacles can be eliminated globally by choosing Stirling ULT technology, which uses 110V-240V universal power to operate anywhere in the world without electrical modifications.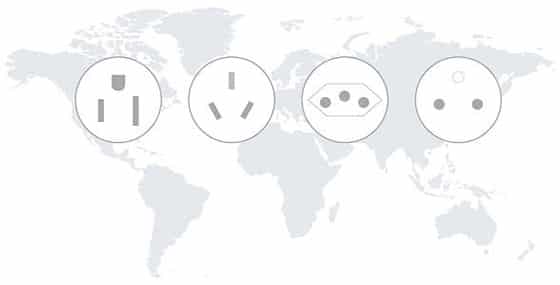 Obstacle: The cold chain must be unbroken throughout on-site storage, bulk loading and transportation.
Before COVID-19 vaccine doses can be administered to billions of patients, they must be transported and safely stored along the journeys from manufacturing facilities to 3PLs, distribution centers and health systems throughout the world. How will your organization maintain ultra-low temperatures along the entire way, from end-to-end?
Solution
Combine active and passive cooling technologies to ensure vaccine efficacy and eliminate cold chain gaps in transit. Active cooling technologies include stationary ULT freezers and shipping containers with built-in refrigeration powered by plug-in and/or battery backups. Passive cooling options include dry ice, vacuum-insulated panels (VIPs) and containers using phase-change materials (PCMs) that must be "charged" via active cooling prior to transport.
Temperature trackers or monitoring devices can be used with cloud-based monitoring platforms to enable a continuous cold chain of custody through all stages of the vaccine distribution process. Likewise, Stirling Ultracold freezers can be easily enabled for connectivity, monitoring and integration with existing BMS/BAS platforms.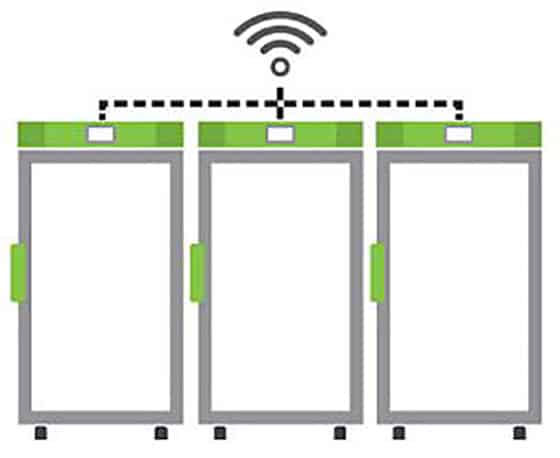 Are you prepared to keep frozen COVID-19 biologic materials safe and effective?
Scaling up cold chain deployment to manufacture and distribute COVID-19 vaccine doses is daunting. Nonetheless, vaccine manufacturers, 3PLs and distribution centers can prepare now before vaccine candidates are fully approved. ULT freezers are available that can enable your organization to avoid risking biologics efficacy while also minimizing the infrastructural and financial challenges that lie ahead.