GMP-Ready Human Platelet Lysate for Closed System Bioprocessing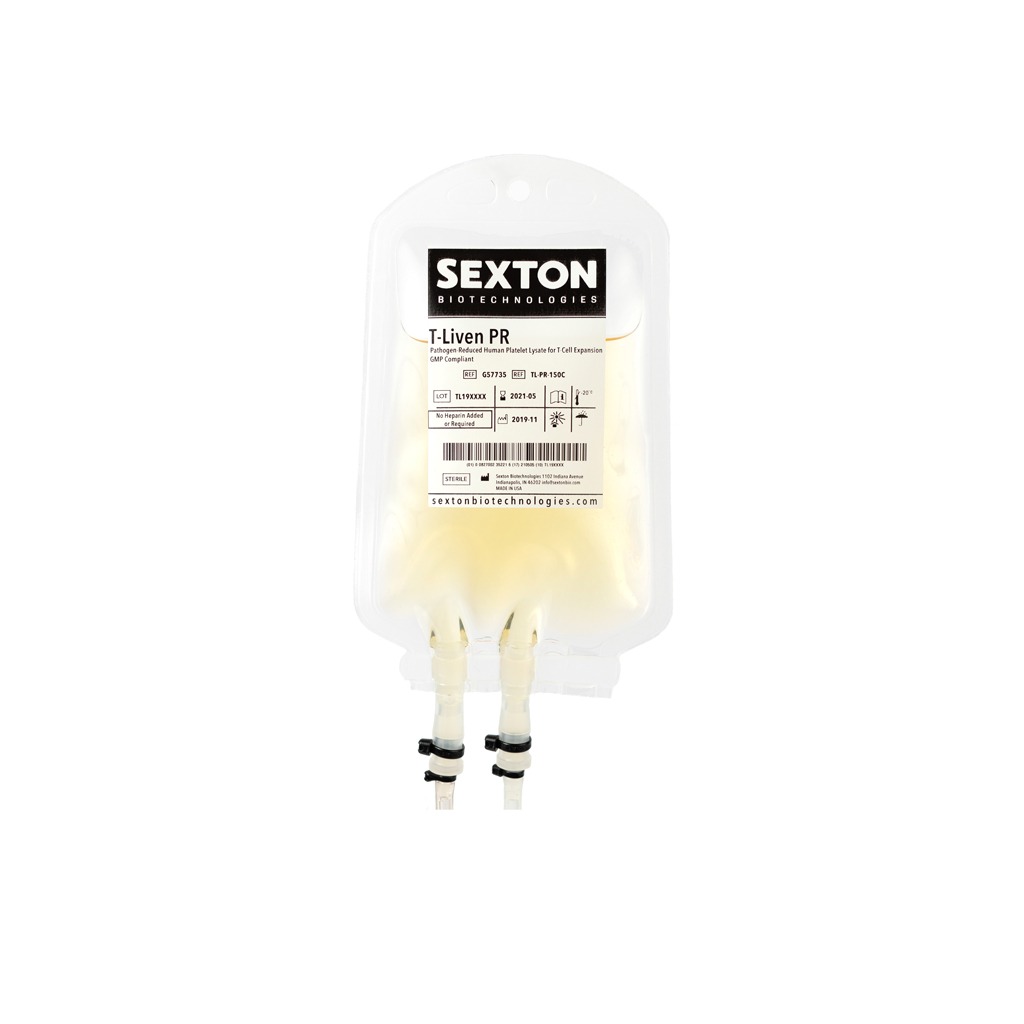 T-Liven PR™
Building on the success of nLiven PR™, T-Liven PR™ combines closed system compatible packaging with release against a T-Cell growth release assay. Ensure your immune cells meet optimal cell quality. T-Liven PR™ consistently produces cells with improved naïve and central memory phenotype.
Specification
Validated pathogen reduction technology using E-Beam irradiation
Released against a validated T-Cell growth promotion assay
Available in bag format
Large donor pool lot sizes
Manufactured from outdated FDA/AABB approved apheresis platelet units
FDA master file, PMDA Certificate of Suitability
Used for manufacturing in US, EU, and other clinical trials globally
Manufactured under a certified ISO 9001:2015 Quality Management System
Example CoA and IFU

Details
Culture supplement to replace FBS or AB Serum
Biodefined composition reduces lot-to-lot variability
Supports a wide range of cell types including MSCs, T-Cells, NK Cells, Endothelial cells, and more
Promotes improved in vitro and In vivo cell quality in CAR-T applications
Typically used at concentrations ranging from 2% to 10%
Used in 2D and 3D expansion systems
Additional pathogen reduction applied per EU pharmacopeia
Please download T-Liven PR™ brochure here:
Frequently
Asked Questions
T-Liven PR is verified to support T cell growth. Each lot is released using a T cell growth verification assay. It's packed in bags for compatibility in common manufacturing systems. Like nLiven PR, T-Liven PR has undergone the additional step of pathogen-reduction.
Ex vivo expansion of cells such as MSCs, ASCs, T Cells, etc. Please connect with us to learn which Sexton hPL is right for your application. 
Yes. We are ISO9001:2015 certified.

Get in touch
BioLife Solutions Inc.
3303 Monte Villa Parkway,
Suite 310, Bothell , WA 98021 USA
For assistance, please call us Monday
through Friday (9:00 am to 5:00 pm PST) at:
Toll Free (North America): +1.866.424.6543
Direct: +1.425.402.1400
Fax: +1.425.402.1433
Sexton Biotechnologies Find Out More