SciSafe's Biostorage Centers of Excellence are leading the way for cell and gene therapy discovery, production and distribution, supporting each step of the bioproduction process.
One of many obstacles highlighted throughout the COVID-19 crisis response has been the need for more resiliency in global cold chain infrastructure for storage of temperature-sensitive medications – in this case; mRNA vaccines and COVID-19 test sample specimens. While the pandemic spurred a rapid buildup of worldwide ultracold storage capacity, at an unprecedented scale, it also created a massive new base of first-time cold storage stakeholders with the expansion of cell, gene and biologic drug discovery. With increasing premiums placed on biospecimen integrity, process validation and regulatory requirements, protection of biological assets from stability degradation, biopreservation stresses and transient warming has become a critical lynchpin for improving success rates in the development and distribution of new therapies with maximum speed and efficacy.
All of this points to an unprecedented need for expert guidance to solve problems and de-risk the biostorage process for drug discovery testing, development and production while recognizing gaps for continuous improvement. Positioning biostorage facilities like SciSafe as "Centers of Excellence" will help lead the charge for others, with decades of experience supporting bioproduction practices.
What makes SciSafe a Biostorage Center of Excellence?
In recent years, SciSafe has emerged as a thought leader in biological and pharmaceutical storage, entrusted by a high-profile clientele with over 50 million samples at strategically located facilities near Princeton, NJ, Boston, MA, Salt Lake City, UT and a new European facility opening in Amsterdam, Netherlands. SciSafe facilities are certified to ISO 20387 and ISO 9001 registered and inspected by the FDA on multiple occasions without any observations. Scisafe has Foreign Manufacturer accreditations with Japan PMDA, and an EU Farmatec registration for Distribution of Active Pharmaceutical Ingredients or API's. . BioLife Solutions acquired SciSafe last year to further build relationships with leading cell and gene therapy (CGT) developers and support biopreservation best practices for its portfolio of class-defining bioproduction tools.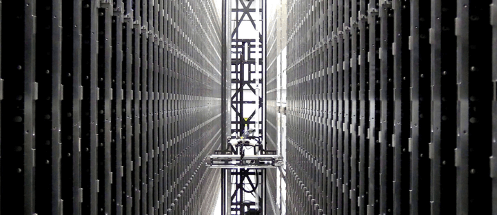 "SciSafe creates the perfect platform to build on Biolife's mission," noted SciSafe's General Manager, Garrie Richardson. "Our rigorous attention to execution, validation and regulatory compliance positions us well to support biopreservation best practices and biostorage process excellence."
Defining Biostorage Process Excellence
Working with Richardson and the SciSafe operations team, BioLife is leveraging its biopreservation toolset to define and establish biostorage benchmarks in response to the demands of its customer base and the rigors of precision bioprocessing. Those benchmarks include:
• Extensive industry experience in establishing cGMP biological and pharmaceutical storage facilities
• Expertise in regulatory compliance, cold chain distribution, storage protocols, equipment management and sample management
• Continuous improvement of safety systems, data monitoring and backup contingencies
• Robust Standard Operating Procedures (SOPs) and quality systems, modeled after FDA required systems for pharmaceutical manufacturers
• Commitment to ongoing investment and development of infrastructure requirements to maintain the safety, integrity and efficacy of stored biological and pharmaceutical assets 24/7/365
• Mastery of full-spectrum testing and cold storage solutions to continuously protect biospecimens and treatment assets in conditions ranging from +70°C down to -196°C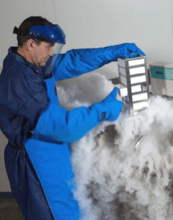 Big Picture Benefits to Bioproduction
"We understand the need in our space to establish best practices and realize that we are in a unique place to share ours with the greater Biolife user community and industry at large," stated Richardson. "As we work with platform experts in biopreservation media, controlled rate freezing, cryogenic and ultra-low freezer storage, SciSafe will leverage the Biolife portfolio with our operational expertise to develop, demonstrate and share our biostorage process benchmarks." By establishing SciSafe Centers of Excellence, BioLife plans to further synergies between biopreservation and biostorage, bringing overall improvements to bioproduction workflows that have become increasingly critical to CGT and biopharma communities that the company serves.