When you choose SciSafe® as your storage facility, you will find that we are unique from our competition.
Our services range from hybrid-onsite sample management to complete customized outsourced biostorage solutions. As an established and experienced world leader in cGMP biological and pharmaceutical storage, our tailored approach to client challenges offers flexible, customer-first solutions. We don't charge onboarding fees.
Your bills will be straightforward with no onboarding fees or hidden costs. Whether you are storing 3 or 30,000,000 samples we are here to help you succeed.
Unlike other biorepositories, you can expect the services and advantages below to be included in your monthly rate.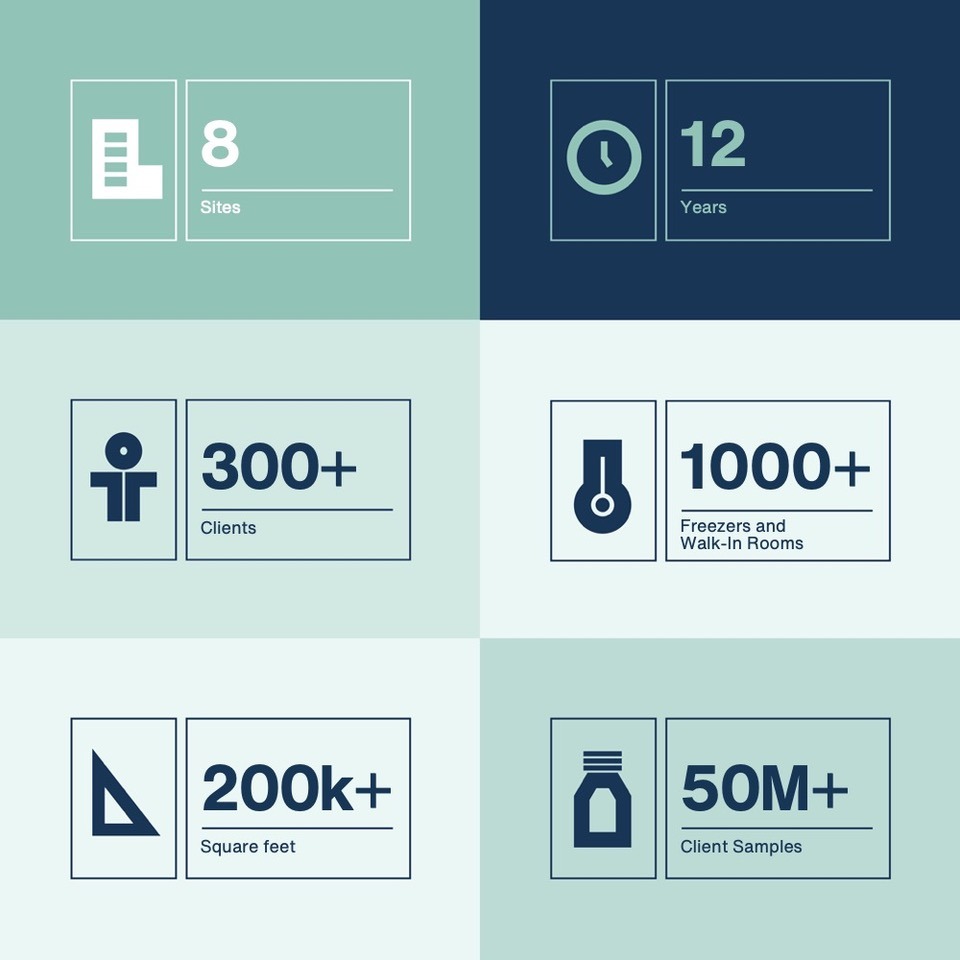 SciSafe industry accreditations and ongoing standards compliance
ISO 9001/ISO 20387
cGMP FDA compliant
FDA registered and inspected since 2011 (CDER and CBER)
Over 86 (SOP's) all modeled after FDA compliance (21 CFR parts 210 & 211) for pharmaceutical manufacturing
GDP (Good Distribution Practice)
CAP-BAP accredited in US facilities as of 2023
Customer Service
Our unparalleled customer service is available 24/7/365. It is our mission to give our customers quick access to their samples while providing the highest level of protection possible for their most valued research.
Customized Solutions for Your Storage
Our flexibility and willingness to customize solutions for you make storing biological and pharmaceutical samples seamless. SciSafe can take on unique projects and we have successfully handled several over the years. Just because your challenges seem difficult does not mean we cannot do what is required. Reach out today!
Material/Sample Inventory
If a customer requires, we offer a client accessible electronic sample management system with real-time visibility and electronic inventory system. Reports can be requested monthly, weekly, or on an as needed basis. 
Sample Security and Protection
All of our facilities have oversized power supplies with redundant HVAC systems, including transformers, to weather any environmental challenge. There is diesel-generated backup power throughout all facilities with automatic transfer switch units to run generators and monitoring systems to alert staff immediately.
Our buildings are only accessible with controlled card scanning. All sample suites include sample audit logs and closed-circuit televisions throughout to offer top-notch security and are monitored 24/7/365 by our onsite security team.
Mirror Banking
For insurance or security purposes, many of our customers prefer to house mirrored sets of samples in 2 geographical locations. SciSafe is happy to accommodate these types of requests and we have a long history of doing so.
Scheduled sample pick-up and delivery to the bench is available with our storage service. This may sometimes depend on your location, but please ask as generally it is something easy for us to handle.
Real-time remote monitoring
If a customer needs real-time monitoring during transport, then regardless of who provides the temperature monitoring devices, we will handle all remote monitoring for free.
Current Good Manufacturing Practices (cGMP) are guidelines stipulated by Food and Drug Administration (FDA) to ensure drugs, pharmaceuticals, food, and/or cosmetics, personal care meet minimum safety and quality standards for use as intended.
Since our core business is in the storage of biological and pharmaceutical materials, all SciSafe Inc. facilities are already fully cGMP compliant and accredited to industry standards.
By choosing SciSafe to store your non-GMP required items, you are gaining the additional benefit of these handling standards at no extra cost to your organization. This should give you added confidence with who and how your storage needs are manage
Freezer Replacement Program
If a customer owns a freezer stored at one of our facilities and it needs to be replaced, we will facilitate the sale of a new one on their behalf. SciSafe uses Stirling Ultracold SU780XLE freezers because they employ all-natural refrigerants, require the least amount of energy per sample to operate, and offer true environmental sustainability. They are a great client swap for old, legacy, compressor-driven freezers and support our client's green initiatives. If a customer prefers not to deal with freezer maintenance or disposal issues on their campus, they can outsource to SciSafe. SciSafe also offers lease-to-own options on freezers stored in our facilities.
Extended Freezer Warranty 
If you purchase Stirling freezers, specifically to store your samples at one of our SciSafe storage facilities, then we offer a complete freezer warranty for as long as that freezer remains with SciSafe. This protection includes: SciSafe maintaining the freezer(s), replacing any worn parts, and completely replacing the freezer if for any reason it should fail. If it is decided to move the freezer back on campus, you will be owning an ENERGY® STAR certified freezer in like-new condition.
Additional Services
Disaster Recovery 
In the event of a natural disaster provided the roads are clear, we can drive our cold trucks to you and move your samples into our trucks.
SciSafe Centers of Excellence offer dedicated pharmaceutical and biological specimen storage in our state of the art facilities.
Seven reasons to choose SciSafe:
BIOLOGICAL & PHARMACEUTICAL STORAGE FACILITIES
We know cold™
We are an established world leader in cGMP biological and pharmaceutical storage.
With a more tailored approach, SciSafe offers flexible customer-focused solutions. Clients have direct contact with senior leadership. We offer unparalleled customer service and are available to our clients 24/7/365. Our mission is to give clients quick access to their samples while providing the highest level of protection possible for their most valued research.
Continuous improvement to plan for any eventuality is a constant for all team members at SciSafe. Our world leading facilities are focused on the specific and oftentimes unique requirements in controlled temperature storage. Oversized and redundant systems are the backbone of any Biostorage facility this includes abundant power, redundant power, oversized and redundant HVAC sytems.
Specializing in Biological Storage, SciSafe has several pharmaceutical storage facilities that offer all biorepository conditions including refrigerated (2-8C), Frozen (-20C, -30C & -40C), Ultra Low (-70C to -90C) and Cryogenic Storage (Vapor Phase and Liquid Nitrogen). SciSafe is FDA registered and audited for HCTP/S.
SciSafe offers all biological and pharmaceutical storage conditions required for ICH Stability testing as well as conditions for Vaccine Storage, Clinical Retains and Bulk cGMP storage. All conditions are available including 25C/60%RH, 30C/65%RH and 40C/75%RH. SciSafe is able to store samples at any condition.
SciSafe offers its own cold chain management/transport services in its own dedicated secure and monitored vehicles and this is offered throughout the US. This allows the clients full chain of custody and control of their samples.
Class-defining solutions for biological and pharmaceutical storage.