Explore our Storage
and Freezer Accessories
Configure & Order Storage Racks Online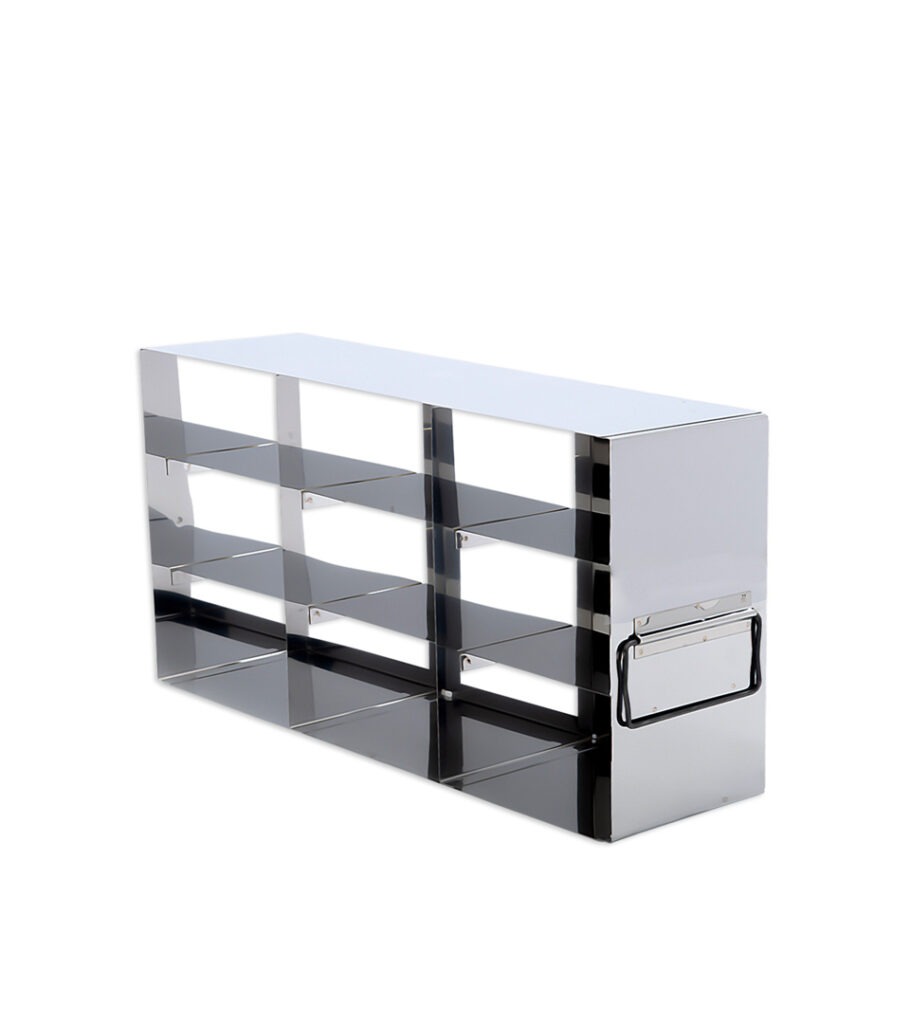 Cold Storage Organization
An organized laboratory is an efficient and safe laboratory. Follow these tips for freezer organization:
1. Label samples.
Design a sample management system that utilizes labels to easily locate everything put into the freezer. Labels may be written on the samples themselves with cryo-markers or placed via sticker. If using BioLife Solutions racking systems, custom etching is available for placing a permanent number or naming convention on the various drawers or towers. Everything within the freezer needs a place and a corresponding label.
2. Follow hazardous material storage instruction.
Although there is no need to mention why you should maintain safety, it is always a nice remind. Ensure you store dangerous items carefully and not place items that might react with each other nearby.
3. Store like items near one another.
The golden rule of freezer organization. Avoid haphazard sample placement. Instead, keep like items with each other — place samples with samples, enzymes with enzymes, and so on.
4. Organize one shelf at a time.
Working to organize one shelf at a time will help create a logical system. Space for temperature-sensitive items within your freezer, is at a premium – make the best use of the available space. Moreover, when you organize one shelf at a time, going down from top to bottom, allows the organization process to be done in batches or at different times.
5. Clean while you organize.
Scraping ice, wiping shelves, throwing away old samples, cleaning racks and walls while organizing shelf-by-shelf will help with long term freezer maintenance and operation.
6. Keep everything visible.
Utilizing racks or transparent storage boxes, bags, or vials helps for quick sample retrieval. When items are not visible, the freezer door may need to be open longer, more samples may be pulled out for identification, and the extreme temperature difference between the inside of the freezer and the inside of the laboratory, creates risks for all items within the freezer.
7. Perform routine maintenance.
Regular freezer cleaning and maintenance are essential for long-term, efficient freezer operation. A laboratory freezer calls for periodic maintenance and routine servicing by certified personnel to keep it in satisfactory running condition through inspection, detection, and correction of possible failures.
8. Monitor samples.
Monitor the temperature of your laboratory freezer and samples frequently. Most freezers come with specific spaces for tracking the unit's temperature. Whether it is an ultra-low temperature (ULT) or cryogenic (LN2) freezer there are various monitors and alarms available to notify laboratory professionals that the freezer is operating out of specification or setpoint.