Considerations for deciding to build biostorage capacity in-house versus outsourcing with a trusted partner.
With the increasing value of biological samples and treatment assets, researchers are realizing the importance of centralized biobanking. Whether insourcing on-campus facilities or outsourcing biostorage services, the following investments must be considered:
Building specialized, secure facilities with dedicated, scalable storage space
Purchasing state-of-the-art equipment
Creating global sample management systems
Establishing reliable cold chain logistics to transport, handle and process samples between facilities
Hiring personnel with specialized expertise needed to effectively operate biorepositories
Maintaining staff training, certifications and accreditations
Validating equipment, technology and processes
Developing and maintaining SOPs, global compliance and business continuity plans
Managing global logistics associated with sample centralization
Scisafe's services range from complete customized outsourced biostorage solutions to hybrid-onsite sample management. Whether you have one or millions of samples, we have the expertise and the facilities to meet your unique needs.
Fully Compliant cGMP Storage Facilities:
ISO 9001/ISO 20387
FDA registered and inspected since 2011 (CDER and CBER)
Over 80 (SOP's) all modeled after FDA (21 CFR parts 210 & 211)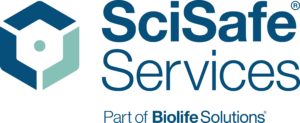 Download White Paper below
SciSafe Build vs Outsource Download
Class-defining solutions for biological and pharmaceutical storage.